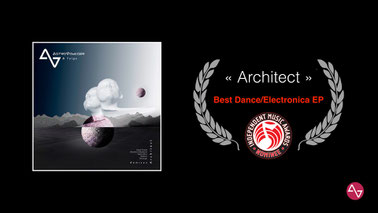 [EN] I am excited and honored to announce that I have been nominated for the Best Dance/Electronica EP at the 16th Independent Music Awards with my Architect EP.

This EP is the musical UFO taken from my 2017 Big Bang electro-symphonic album recorded with the Prague Concert Philharmonic. It includes the original version where Taïga's bewitching voice invites us to become the architects of the future… plus remixes from artists and friends such as  Blackbird Blackbird, Deep Forest, Halina Rice, Badoos and Desange.

Massive thanks to the 16th IMA Judges for selecting my EP.  I am so excited my Architect EP will get a chance to be heard all around the world!
If you haven't heard it, check it out here :
AstroVoyager-16th-IMA-Nominee_Press-Release
AstroVoyager-16th-IMA-Nominee_Press-Rele
Document Adobe Acrobat
179.4 KB
[FR] Je suis très heureux et honoré de vous annoncer que je suis nommé dans la catégorie "Best Dance/Electornica EP" pour les 16èmes Independent Music Awards avec mon EP Architect.
Cet EP est l'ovni musical de mon album électro-symphonique Big Bang enregistré avec l'Orchestre Philharmonique de Prague et sorti en 2017. Il inclut la version originale du titre où la voix envoûtante de Taïga nous invite à devenir les architectes du futur... mais aussi des remixes par les artistes et amis Blackbird Blackbird, Deep Forest, Halina Rice, Badoos et Desange.
Un grand merci aux membres du jury des 16èmes IMA pour avoir sélectionné mon EP. Je suis tellement excité à l'idée que mon EP Architect puisse avoir une chance d'être écouté tout autour du globe.
Si vous ne l'avez pas encore écouté, suivez ce lien :
AstroVoyager-16th-IMA-Nominee_Communique-de-Presse
AstroVoyager-16th-IMA-Nominee_Communique
Document Adobe Acrobat
153.0 KB