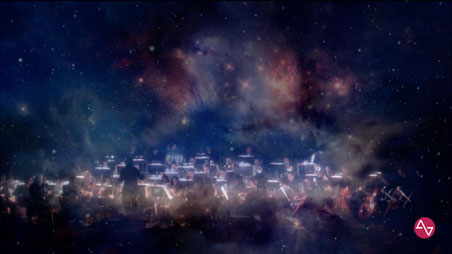 [EN] My first and new "Big Bang" LP is out now!
Today is a very special day for me, my most sincere and ambitious release to date. This album is the result of 25 years of influences and collaborations plus 4 years of studio work with nearly 30 musicians.

I've been lucky enough to record this album throughout Prague with the Prague Concert Philharmonic at the Czech Radio Television Studio, but also my homecountry, where I recorded vocals with Taïga, Jean-Paul Florès, and drums with Pascal Poulain at "Le Studio de Poche" with Ludo Mantion. Then we mixed this album with the talented Thomas Jacquot at Studio Le Zèbre Besançon. Last stop in Paris, for mastering at La Villa / Mastering Studio by Jérémy Henry… Not forgetting cover design by Frédéric Kempf et Warren Morris … But also music videos crafted by inzieye et Visual Break !

This project would has been impossible to put together without the precious help of my record label Cosmxplorer, my distributor Musea Records, my PRs The Playground / Steeve Cretiaux / Creastiv / Hammarica / Dilek PR, Dole city and Département du Jura, Danse en Corps, the musicians and everyone involved : thank you, I'll hope that you'll love this album as much as I loved making it.

Buy / Listen to the album :
https://astrovoyager.fanlink.to/bigbang

//

[FR] Mon quatrième et nouvel album, "Big Bang"  est sorti aujourd'hui.

"Big Bang" est le projet musical le plus sincère et ambitieux que j'ai pu conduire. Cet album a été façonné par plus de 25 ans d'influences et de collaborations musicales et concrétisé par près de 4 années de travail en studio avec plus de 30 musiciens.

J'ai eu le privilège de pouvoir enregistrer cet album avec l'Orchestre Philharmonique de Prague dans les studios de la Radio Télévision Tchèque, mais aussi en France où nous avons enregistré les voix de Taïga, Jean-Paul Florès, et les batteries de Pascal Poulain au Studio de Poche avec Ludo Mantion. Nous avons ensuite mixé cet album avec le talentueux Thomas Jacquot au Studio Le Zèbre Besançon. La dernière étape fut le mastering par Jérémy Henry à La Villa / Mastering Studio… Sans oublier la pochette dessinée par Frédéric Kempf et Warren Morris… Et les vidéos réalisées par Inzieye et Visual Break !

Ce projet aurait été totalement impossible sans l'aide précieuse de mon label Cosmxplorer, mon distributeur Musea Records, mes PRs The Playground / Steeve Cretiaux / Creastiv / Hammarica / Dilek PR, de la Ville de Dole et du  Département du Jura,  Danse en Corps, les musiciens et toutes les personnes qui ont donné un bout d'eux-même : merci à vous tous, j'espère que vous prendrez autant de plaisir à découvrir cet album que j'en ai eu à le créer pour vous.

Ecoutez/Achetez l'album :
https://astrovoyager.fanlink.to/bigbang